Last update on August 21, 2014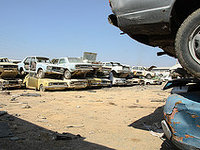 Purchasers have the possibility to locate this salvage yard close to the area of Chunchula (Alabama). It provides classic parts, motorcycle parts, scrap metal, truck parts, rv parts or car parts to its purchasers. In case you need to inquire on any used parts, junk car value estimation, get cash for junk autos or junk cars for sale, you can get in touch with the business via phone, tollfree or email. The Cash For Junk opening schedule info isn't offered yet.
Their business model:
classic parts motorcycle parts scrap metal truck parts rv parts car parts
USA, Alabama, Mobile, Chunchula
Business Hours
Need used parts? Submit your parts request for a quote
Improve your sales with us!
More than 1,000,000 monthly visitors
This section pretends to provide you a little more, apart from the contact details related to this junk yard. We work to give our visitors additional search possibilities so that you can find the best used parts in the shortest possible time. This listing is organized from closest to farthest from this city.
Locate under this text other junkyards in the vicinity of Chunchula (Alabama):