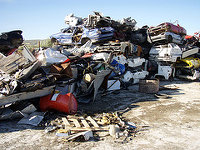 This salvage yard based close to the city of Santa Ana (California), supplies to its visitors. To inquire about any second-hand parts, estimated junk car value, get money for second hand cars or junk cars for sale, you can get in touch with them by phone. The California Auto Recycling business hours info is not present yet but you can see its website.
USA, California, Orange, Santa Ana
518 Poinsettia St, Santa Ana, CA 92701
Need used parts? Submit your parts request for a quote
We couldn't be the leading junkyard database online for the U.S. if we didn't deliver you some additional features to help you in your search for second-hand parts.
Check this list (which is organized from nearest to furthest) for additional wrecking yards close to the surroundings of Santa Ana (California).