Last update on August 21, 2014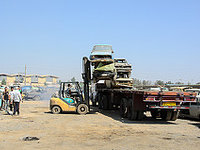 If looking for second-hand pieces for your car at the best prices but without compromising good guarantees in the surroundings of Detroit (Michigan), this business probably offers what you need. Its business area is focused on the delivery of scrap metal, always including the most rigorous quality supervision. You can also inquire them if you need a quote for your second hand auto or if you are aimed to buy a junk auto at a good price. It´s viable to contact them by these methods: phone. More information: The Buying All Cars is open from Monday to Friday.
What they sell:
scrap metal
USA, Michigan, Wayne, Detroit
20487 Van Dyke, Detroit, MI (Zipcode: 48234)
Business Hours
Need used parts? Submit your parts request for a quote
Improve your sales with us!
More than 1,000,000 monthly visitors
This page wants to offer you a little more, apart from the contact information of this junkyard. We work to give our users more search options with the goal that you can find your junk spare parts in the shortest possible time. This listing is organized from closest to farthest from this municipality.
Find under this text other salvage yards near the area of Detroit (Michigan):