Burnham Street Garage


Milwaukee, Wisconsin
Want to ADVERTISE this business?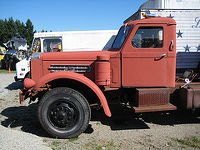 You can locate this shop in the surroundings of Milwaukee (Wisconsin). If you want to inquire about any second-hand parts, junk car value estimation, get cash for junk autos, you can get in touch with the dealer by using phone. The Burnham Street Garage is open Monday to Friday.
What you can find: cash for junk car
USA, Wisconsin, Milwaukee, Milwaukee
3013 W Burnham St, Milwaukee, WI (Zipcode: 53215)
burnhamstgarage3013@gmail.com
Burnham Street Garage Schedule
Burnham Street Garage Reviews
Place here your opinion! Review Burnham Street Garage now
---
Junkyards near Milwaukee
Find below additional salvage yards in the area of Milwaukee (Wisconsin):