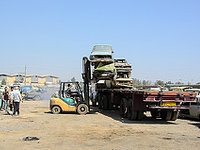 In the surroundings of Golconda (Illinois) is stablished this junk yard, which is a good match for drivers looking to purchase the best second hand pieces compatible with their cars, but without having to invest large amounts of dollars. There you´ll be able to find car parts with the best guarantees in the sector and great customer service. If you want to get in touch with them, you can do so: email, phone or tollfree. Additional info: The Broadway Auto Parts operating schedule information isn't included so far.
USA, Illinois, Pope, Golconda
Operating Hours
Share your comments below!
Need used parts? Submit your parts request for a quote
There is an enormous mixture of makes and models for sale, so there's a possibility that you won't find the second hand pieces you are looking for in this salvage yard, regardless of its deep inventory. Don't worry, we've thought of everything and found other recyclers for you nearby.
This list (which is arranged from nearest to furthest) displays additional salvage yards in the surroundings of Golconda (Illinois):
1

1. Broadway Auto Parts

RR 2, Golconda, IL 62938

open now

Stablished as one of Golconda's best junkyards, they deliver a wide inventory of auto parts. Pay them a visit and consult their expert team without hesitation. Contact them via email, phone or tollfreeOther customers have left 2 opinions about this business.

2

2. Smithland Auto Parts

414 Adair St, Smithland, KY 42081

open now

It's easy to save hundreds of dollars on the maintenance of your loved vehicle by obtaining second hand spares with guarantee in this leading in Smithland surroundings junkyard. Contact them by: phone. In addition, you may read 3 thoughts left by our visitors.

3

3. Bumper To Bumper Auto Parts/Crow-Burlingame

618 Ferry St, Metropolis, IL 62960

open now

In case you are looking for the best second hand spare parts near the Metropolis area, this salvage yard could be an excellent pick to obtain them at a great price. You have the possibility to get in touch with them via: phone. This company timetable info cannot be found, however, you can check its web.Other customers have shared 3 thoughts about this business.

4

4. Royal Oaks Parts Department

3417 Park Ave, Paducah, KY 42001

open now

Find all the essential auto parts and accessories you need at this reliable store. Whether you are a car enthusiast or a mechanic, their broad selection of products ensures that you will find what you need to keep your vehicle in top condition. From filters and engine components to brakes and suspension parts, they have it all.

5

5. HAYES Auto ZBody SUPPLIES

2420 Bridge St, Paducah, KY 42003

open now

Find all the essential auto parts you need at this convenient store. From filters and belts to brakes and exhaust systems, they have a vast selection of products available for various makes and models. Whether you're a car enthusiast or just looking to do some DIY repairs, you'll find everything you need here to keep your vehicle running smoothly.

6

6. Bumper To Bumper Auto Parts/Crow-Burlingame

1600 Washington St, Paducah, KY 42003

open now

This auto parts store is a go-to for customers looking for knowledgeable and friendly service. Their expertise and cheap prices make them the ideal choice for anyone in need of quality paint for their vehicle.Customers appreciate the great experience of doing business with this establishment.

7

7. Smiley's Parts & Services

6425 Old Mayfield Rd, Paducah, KY 42003

open now

With an extensive stock of used VW parts, Smiley's in Paducah Ky is the first stop for anyone looking to rebuild a vintage 1600. The knowledgeable and friendly staff embodies a groovy old-school vibe, making it easy for customers to find exactly what they need for their Air cooled VW project.

8

8. Auto Salvage of Paducah

1250 N 8th St, Paducah, KY 42001

open now

used auto parts

self service

Discover a self-serve salvage yard with a vast selection of used auto parts at unbeatable prices. The knowledgeable and friendly staff ensure an organized and efficient experience, with the option to cross-reference parts if the exact one is not available. An economical choice for all your salvaging needs.

9

9. Bumper To Bumper Auto Parts/Crow-Burlingame

1902 N 10th St, Paducah, KY 42003

open now

With a wide variety of used auto parts, this store is a key location for those hard-to-find pieces. Customers praise the knowledgeable and helpful staff, who ensure they get the right part at an excellent price. Known for their reliability, this business is the best choice in town for recycled car parts in good condition.

10

10. O'Reilly Auto Parts

2820 Jackson St, Paducah, KY 42003

open now

With a broad selection of auto parts and a knowledgeable staff, this store is the go-to for all your car maintenance and repair needs. The team is professional, efficient, and will go the extra mile to ensure you get the parts you need in a timely manner. Whether you need replacement parts or accessories, this store has got you covered.