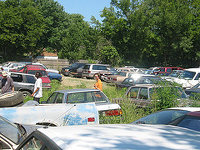 This junkyard located in the area of La Grande (Oregon), offers car parts to its buyers. To ask on any used vehicle spare parts, junk auto value estimation, sell or purchase second-hand autos, please contact by email, phone and tollfree. The B & K Auto Salvage opening hours information can be located below.
salvage yard
used auto parts
USA, Oregon, Union, La Grande
64190 OR-203, La Grande, OR 97850
Business Hours
Leave your opinion below!
Need used parts? Submit your parts request for a quote
We couldn't be the leading junkyard repository on internet for the U.S. if we didn't deliver you some extra features in order to assist you in your search for second-hand pieces.
Review this listing (which is organized from closest to furthest) for additional junk yards near the vicinity of La Grande (Oregon).