Last update on December 29, 2015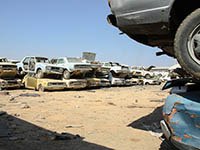 Close to the surroundings of Mount Pearl (Newfoundland and Labrador) is stablished this business, which is a good match for drivers looking to purchase the finest junk parts which can fit their autos, but without having to spend large amounts of dollars. There you´ll be able to find car parts with the expected guarantees of the market and efficient customer service. If you want to contact them, you can do so: email, tollfree and phone. More information: The Auto Parts Network business schedule info isn't present yet, despite this you can review its website.
What they sell:
car parts
Canada, Newfoundland and Labrador, Mount Pearl
6 Corey King Drive, Mount Pearl, NL (Zipcode: A1N 0A2)
Operating Hours
Auto Parts Network Reviews
Leave your comments here!
Need used parts? Submit your parts request for a quote
Improve your sales with us!
More than 1,000,000 monthly visitors
There exist a colossal variety of makes and models for sale, so there's a possibility that you will not locate the second hand spares you're looking for in this salvage yard, despite its impressive inventory. Don't worry, we've already thought about that and gathered other businesses for you very close.
This list (which is organized from nearest to farthest) gathers additional junk yards close to the vicinity of Mount Pearl (Newfoundland and Labrador):
1

1. A1 Automotive

395 East White Hills Road, St. John's

4.7 miles

The ideal technique to save large amounts of money on second hand pieces for your automobile is by approaching a wrecking yard and this is an outstanding pick close to the St. John's location. More information: This junk yard timetable info cannot be found, despite this you can visit its website.Other users have left 3 thoughts about this junk yard.

2

2. Vatcher's Auto Parts

225 Thorburn Road, St. John's

4.7 miles

The salvage yard you are looking here is situated near St. John's (Newfoundland and Labrador) and it's offering the greatest performance vehicle spares to its possible purchasers in the environs. In case you are aimed to inquire a valuation for your old automobile or plead for a precise used spare, you can contact them using email, phone and tollfree.