Anthonys Auto Dismantling
Anthonys Auto Dismantling

JunkYard
Santa Cruz, California
Want to ADVERTISE this business?
Last update on August 21, 2014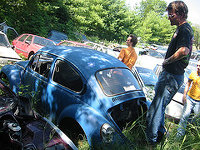 If you are looking for used parts for your car at the best prices and with good warranties in the surroundings of Santa Cruz (California), this salvage yard surely offers what you want. Its business area focuses on the distribution of car parts or scrap metal, always with the most strict quality control. You can also ask them if you need a valuation of your used car or if you are looking to buy a junk vehicle at a good price. It is feasible to get in touch with them by these methods: phone. Additional information: The Anthonys Auto Dismantling business schedule info is not available yet, despite this you can check its website.
What you can find: scrap metal car parts
USA, California, Santa Cruz, Santa Cruz
980 17th Ave, Santa Cruz, CA (Zipcode: 95062)
www.anthonysautowrecking.com
Anthonys Auto Dismantling Schedule
Anthonys Auto Dismantling Reviews
Place here your opinion! Review Anthonys Auto Dismantling now
---
Junkyards near Santa Cruz
Locate below more salvage yards in the area of Santa Cruz (California):