Amigos Used Auto Parts


Newark, New Jersey
Want to ADVERTISE this business?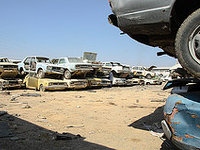 Situated in the city of Newark (New Jersey), this salvage yard is providing scrap metal and auto parts to its potential customers. In order to inquire on any second-hand parts, junk vehicle value estimation, get cash for junk cars or scrap autos for sale, please contact them via email or phone. The Amigos Used Auto Parts is open Monday to Saturday.
What you can find: car parts
USA, New Jersey, Essex, Newark
238 Parkhurst St, Newark, NJ (Zipcode: 07114)
amigosusedautoparts@outlook.com
http://www.amigousedautoparts.com/
Amigos Used Auto Parts Schedule
Amigos Used Auto Parts Reviews
Leave your opinion! Review Amigos Used Auto Parts now
---
Junkyards near Newark
Find below other salvage yards in the area of Newark (New Jersey):