All Dodge Truck & Van Dismantlers
All Dodge Truck & Van Dismantlers


Rancho Cordova, California
Want to ADVERTISE this business?
Last update on July 18, 2018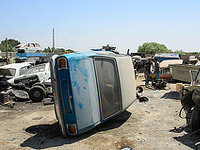 This junkyard situated in the city of Rancho Cordova (California), provides car parts or truck parts to its customers. To inquire about any used parts, estimated junk car value, get cash for junk cars or junk cars for sale, please contact via email, phone and tollfree. The All Dodge Truck & Van Dismantlers timetable information can be found under these lines.
What you can find: car parts truck parts
USA, California, Sacramento, Rancho Cordova
3731 Recycle Road, Rancho Cordova, CA (Zipcode: 95742)
www.dodgeautoandtruckwreckers.com/
All Dodge Truck & Van Dismantlers Schedule
All Dodge Truck & Van Dismantlers Reviews
Leave your opinion! Review All Dodge Truck & Van Dismantlers now
---
Junkyards near Rancho Cordova
Check this list for more wrecking yards in the surroundings of Rancho Cordova (California):