Last update on December 29, 2015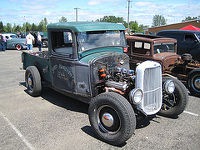 This wrecking yard based close to the area of Holland Landing (Ontario), delivers car parts to its purchasers. If you aim to ask on any second-hand pieces, junk auto value estimation, trade or buy second-hand vehicles, please get in touch with them via email, phone or tollfree. The 400 Auto Wreckers Ltd. timetable information is not offered so far, however, you can check its website.
Their business model:
car parts
Canada, Ontario, Holland Landing
72 Sluse Road, Holland Landing, ON (Zipcode: L9N 1G8)
Business Hours
400 Auto Wreckers Ltd. Comments
Share your comments here!
Need used parts? Submit your parts request for a quote
Improve your sales with us!
More than 1,000,000 monthly visitors
New blog posts that may be of your interest
We could not call ourselves the leading junk yard directory on internet for the United States if we didn't offer you some additional components to assist you in your search for used parts.
Browse this list (which is organized from nearest to furthest) for more junkyards in the vicinity of Holland Landing (Ontario).
1

1. Formula Auto Wreckers

22081 Kennedy Road, RR #2, Queensville

3.9 miles

Do you have sleeping in the garage a decrepit vehicle or are you looking for used spares compatible with your auto? This site suggest a visit to this business, since it has a gargantuan inventory.

2

2. Stewart Salvage Limited

15583 McCowan Rd. RR#3, Newmarket

5.7 miles

Inhabitants of the Newmarket zone can buy a gargantuan inventory of second hand spare parts suitable for their cars in this salvage yard. You can get in touch with them via: email and phone.

3

3. Beeton Truck & Auto Wreckers Ltd.

4049 Line 8, Bradford

6.9 miles

In case you are looking for the highest quality second-hand parts in the Bradford neighborhood, this business is a good choice to buy them at a great price. You have the possibility to contact them using: phone or email. This junkyard operational hours information cannot be found yet.This junk yard has been rated 1 times by previous users.

4

4. Carcone's Auto Recycling

1030 Bloomington Road, Aurora

11.2 miles

Buyers have the possibility to reach the friendly owners of this business using these means: tollfree, email or phone. If you want to purchase high quality vehicle spares in the municipality of Aurora (Ontario), they are an ineludible option. This salvage yard timetable information does not appear in our database but you can visit its website.This junk yard has been voted 1 times by our visitors.

5

5. Cookstown Auto Centre Ltd.

5046 5th Sideroad R.R.#3, Cookstown

19.6 miles

The junkyard we display here is situated close to Cookstown (Ontario) and it's distributing the best value auto spares to its potential visitors close to the area. In case you are aimed to request an estimation for your junk auto or plead for a particular second-hand spare, please contact them using phone, tollfree and email.

6

6. #9 Auto Wreckers

8692 Hwy #9 RR#4, Tottenham

28.2 miles

Are you the owner of an old vehicle or are you immersed in the search of second-hand pieces for your automobile? We suggest a visit to this wrecking yard, since it owns a gargantuan inventory. This business timetable info is not available but you have the option to visit its website.

7

7. Uxbridge Auto Wreckers

7509 Concession #4, Uxbridge

29.3 miles

This junk yard situated close to the surroundings of Uxbridge (Ontario), offers a very efficient service to its shoppers, offering excellent discounts but with the expected quality and a generous breadth of inventory.

8

8. Early's Auto Parts

7700 Highway 89 West, Alliston

31.1 miles

This business aims to deliver an highly competent assistance at very reasonable prices, with a huge breadth of supply and with the warranties demanded by its buyers. Visitors have the opportunity to reach this salvage yard near the municipality of Alliston (Ontario). The Early's Auto Parts business hours information is not available, despite this you can see their website.

9

9. CIPCO | OEM Automotive Lighting.com

151 Amber St. Unit 6, 7 & 8, Markham

31.2 miles

This salvage yard aims to offer an highly competent assistance at good prices, gathering an immense breadth of supply but without giving up the guarantees demanded by its customers. Users have the opportunity to find this junkyard in the municipality of Markham (Ontario). More information: They're open from Monday to Friday.In addition, you may check 1 opinions left by other users.

10

10. Fast Cash for Cars

164 Limestone Crescent, North York

37.5 miles

It's easy to economize hundreds of dollars on the maintenance of your beloved auto by obtaining used spares with warranty in this eminent in North York area wrecking yard. The Fast Cash for Cars is open from Monday to Saturday.