Our Premium Listing: get more customers, improve your sales!
Improve your business presence on Google

Your business, through our site, will be on higher positions in search engines like Google or Bing, for keywords related to junk yards, auto salvage yards, used vehicle parts, etc.

Gain authority, stand out from the crowd

Your company will appear in the highest position of our lists with a special design, always above free listings. 85% more chance of visiting your business compared with free listings.

Increase your sales!

More clicks on your business listing means more orders. We have over 25,000 page views per day!

Receive direct orders from potential customers

Orders will be directed directly to the email address of your business. We are receiving more than 100 orders per day!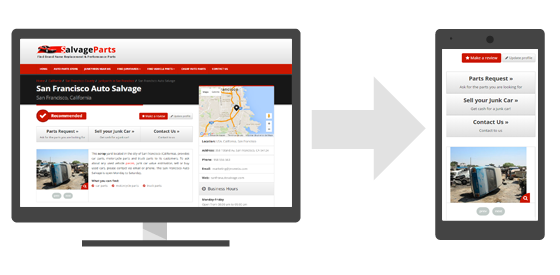 Get your Premium Listing!
Premium Listing vs Free Listing
Easily modify your business profile
Include images about your company
More attractive listing design
Your business will appear on the top search positions
Instantly receive parts requests from customers
More business images available
Improve your listing visibility
Premium Listing
$19/month
Premium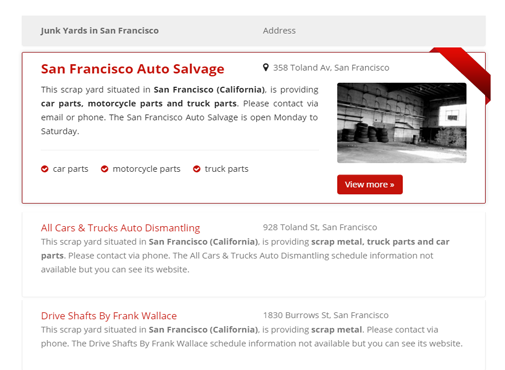 Free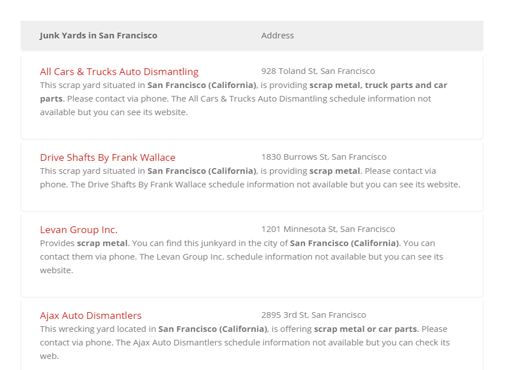 Premium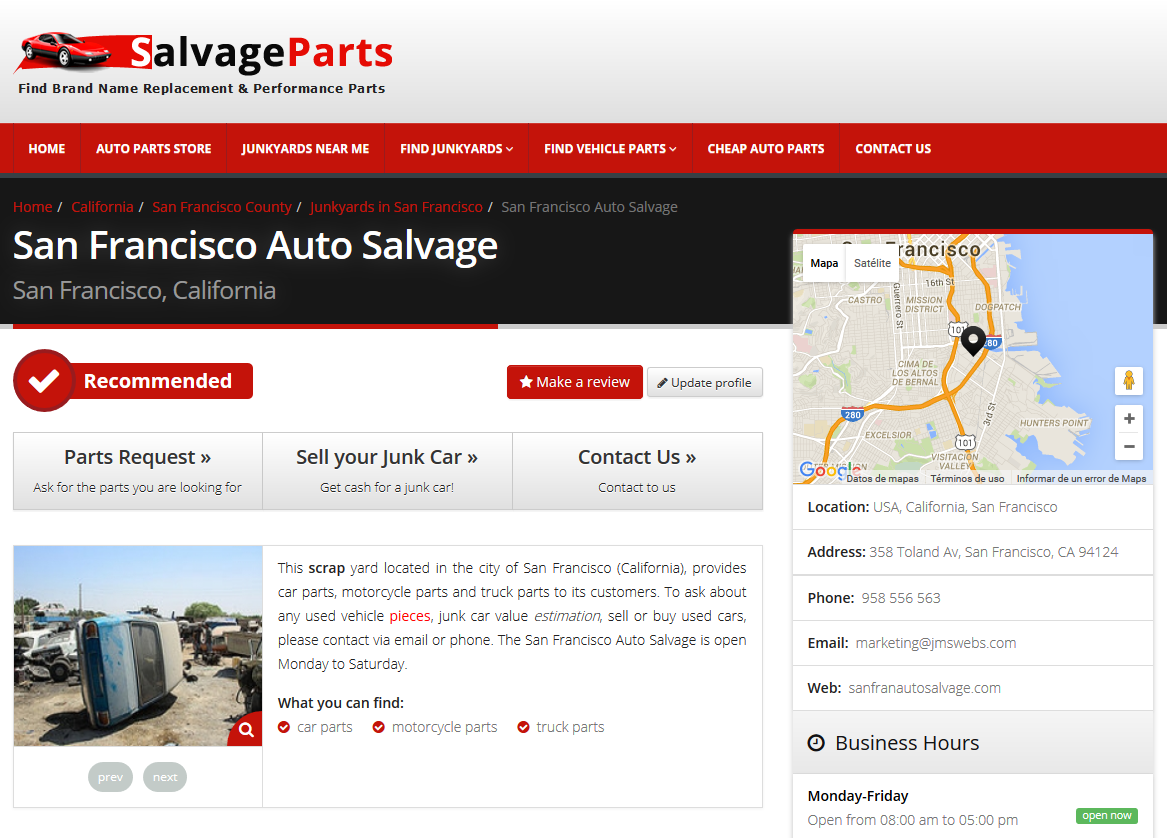 Free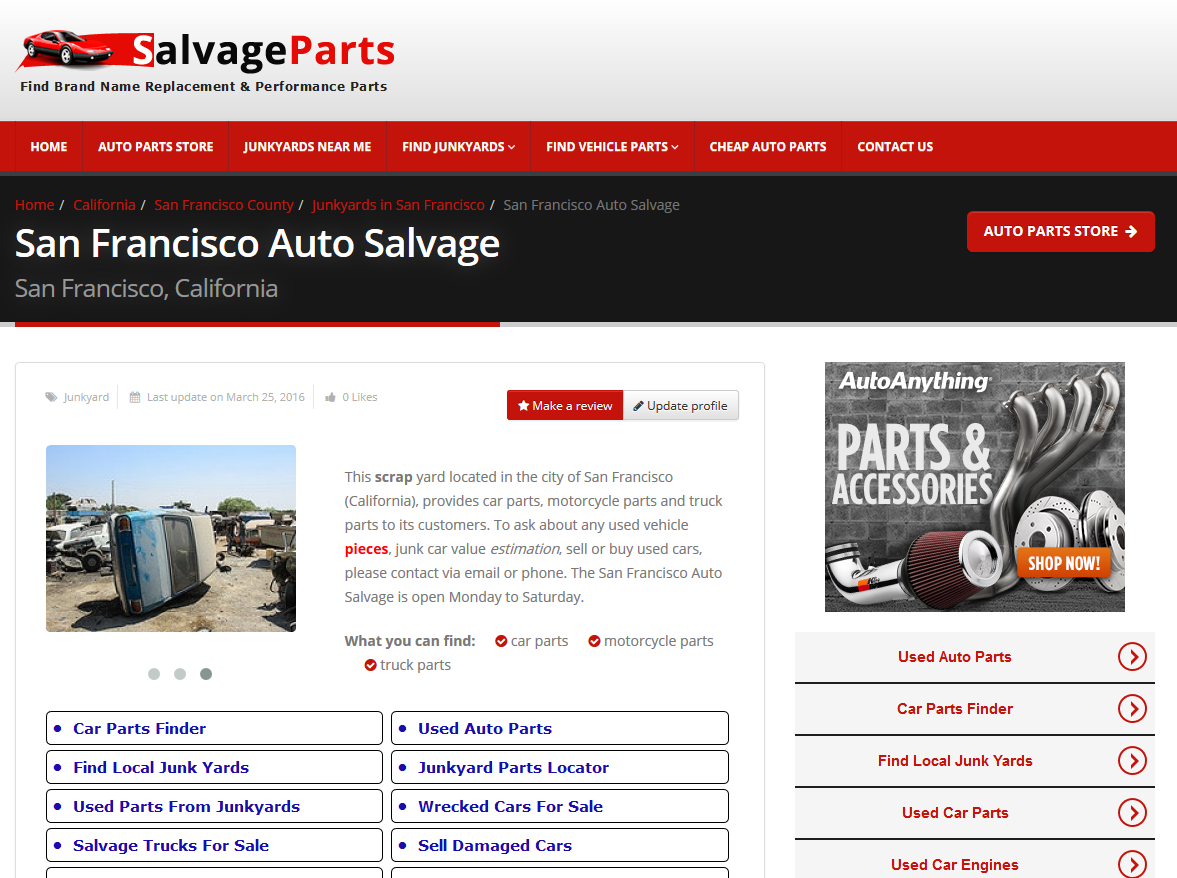 Everything you need to increase your sales!
Go Premium now at #1 Salvage Yards Website on Internet
Frequently Asked Questions
Your business on the highest positions in the search results lists. Always above the fold.
Differentiate from competitors with a special design of the listing for your company in the business listings.
Upload more images related to your business.
Receive direct requests by email from your potential customers.
Yes! Just go to "Update your profile" panel and modify or add any information of your business. With a few clicks, you will have the information of your business completely updated.
You can modify your business pictures at any time.
Simply go to "Update your profile" panel, login to your account and modify your images.
Of course, you can cancel your Premium Listing subscription (and go back to FREE) at any time with just a few clicks. To cancel an active subscription:

Log in to your PayPal account
Click on "History"
Choose "Subscriptions" from the drop-down menu
To view the details of a specific subscription, click on "Details"
At the bottom of this page, you will find the link to "Cancel Subscription"
Click "Cancel Subscription" again on the confirmation page
Because PayPal is easy, secure and well trusted. PayPal provides extensive -and FREE- protections for buyers and sellers that automatically apply to every transaction. Please read more on the PayPal Purchase Protection Policy.