A C Used Auto Parts Corp

JunkYard
Miami, Florida
Want to ADVERTISE this business?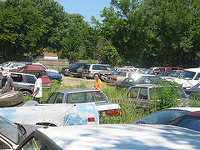 You can find this junkyard in the city of Miami (Florida). It provides car parts to its customers. If you want to ask about any spare parts, junk car value estimation, sell or buy junk cars, you can contact the dealer via phone. The A C Used Auto Parts Corp schedule information not available.
What you can find: car parts
USA, Florida, Miami-Dade, Miami
A C Used Auto Parts Corp Schedule
A C Used Auto Parts Corp Reviews
Leave your opinion! Review A C Used Auto Parts Corp now
---
Junkyards near Miami
Find here other wrecking yards in the area of Miami (Florida):